Phone 856-309-9500 ~ 50 College Drive Clementon N.J. 08021 ~ www.KaspersKorner.com
| | |
| --- | --- |
| KaspersKorner | New Jersey Auto Repair | Certified Automotive Repair, Services And Performance Shop Of New Jersey | |
Welcome To Our Website


Kaspers Certified Automotive Repair, Services and Performance is one of New Jersey's most highly recognized Auto Repair, Performance Sales and Modifications Centers serving the area as a family owned business since 1998.

Kaspers Technicians are ASE Certified with over 54 years of combined experience. Our new facility located in Clementon N.J is state of the art with a full showroom, five double deep bays which holds nine lifts. Anything from routine maintenance to High Performance, we can do the job and do it right.

Our Mission Statement is simple, "Do It Right And Fair, Growth Will Follow". Our company employs seven technicians able to handle your largest or smallest repairs or modifications. Visit Our New Shop / Store and schedule an appointment with our professionally trained auto mechanics. Read More About Us Here



New Jersey Auto Repair Specials / Coupons Below "Check Them Out"

Kaspers Authorized Dealer & Installs "Roadmaster Active Suspension" Systems
A Sampling Of Our Repair | Performance Sales And Services


Throughout our time as technicians and mechanics, Kaspers has put forth the best effort to give you the highest quality in service, selection, satisfaction and our own standards of perfection we pride ourselves on. Below you can see just a small sample of some of our choices for you and your vehicle.

From high end exotics to general transportation and trucks we give you a level of excellence only found in a certified automotive repair business.

Please feel free to browse deeper into our website and choose Kaspers for your next automotive experience with a smile.



Kaspers Drag Racing News 2011


TJ Kasper Sets All Time Outlaw 10.5 World Record Shakedown Nationals 201MPH Read More Here

Tom and TJ Kasper: Number One / Two Points Champions Atco Raceway 2011 Read More Here

Tommy Kasper Takes Finishline Performance Street Car Shootout Track Championship 2011 Full Story Here

Kaspers Korner Outlaw 10.5 Mustang's Rank High At The 2011 Shakedown At E Town
Review And Photos Here

Kaspers Korner Drag Racing Outlaw 10.5 Mustangs At Yellow Bullet Nationals 2011
Read The Complete Story, Check Out The Photos Too


See What Our Customers Have To Say About Our New Jersey Auto Repair / Performance Center

Our customer's that have been to Kaspers Korner New Jersey Auto Repair are talking. Now sending us feedback on our regular service and our performance installation / modifications. Join in and submit your feedback or testimonial, we appreciate the critique' of our services and quality of the parts we sell and install on a daily basis.

Visit Our Customers Testimonials Page And Feel Free To Reply
New Jersey Auto Repair Specials / Coupons / Discounts And Rebates Online By Kaspers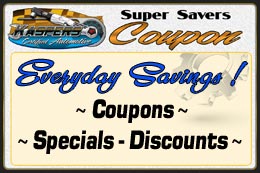 Getting a discount or money back is never a bad thing when it comes to auto repair. At Kaspers Certified Auto Repair Of New Jersey, we want you to get all the advantages we have to offer !! Our normal "Discount Auto Repair Coupons" can make it that much easier to walk out of our facility with extra dollars in your pocket along with our oustanding offers by manufacturers and suppliers.

Special: Valvoline Premium Conventional, I MaxLife, DuraBlend, SynPower or Premium Blue oil change.

Get a Valvoline Rewards Card Worth Up To $15 at Kaseprs Korner After purchase of a professionally installed Premium Valvoline Oil Change.

Take part in our Coupons online and save money now !! Visit Our New Jersey Auto Repair Specials / Coupons / Discounts Page Here
Authorized Roadmaster Active Suspension Dealer & Installations


Roadmaster Active Suspension (RAS), the ultimate assist for vehicles with rear leaf spring suspension. RAS is the only suspension upgrade that converts basic "passive" leaf springs into mechanically "active" suspension. A system that instantly absorbs and dissipates load force energy resulting in significantly improved vehicle stability, balance, traction and control, with or without a load. Roadmaster Active Suspension adds critical strength to leaf springs but WILL NOT compromise ride quality. The patented design eliminates bottoming out, axle wrap and wheel hop, greatly improves road handling by reducing sway and dangerous body roll on cornering, and strengthens the rear leaf springs for towing or hauling maximum loads with maximum safety. Vehicles and fleets that consistently operate under load benefit from improved fuel efficiency, vehicle safety and load carrying capacity as well as reduced driver fatigue and extended tire and suspension component life.
See More About Our Installs And Sales of "RAS" Here
| | | | |
| --- | --- | --- | --- |
| The better part of your vehicles life depends on regular maintenance and service. Get the same results from Kaspers as your Dealership alternative in the future. Quick turn-around times, be it large or small, we can handle it and have you back on the road promptly. | Save gas and increase your driving pleasure with our full compliment of suspension and alignment services. We take our time; inspect all area's of your cars undercarriage for defects and issues with our certified technicians. | Next time you feel your brakes are in need of competent service either drum or disc, years of knowledge hands you the best package for stopping straight and steady. Don't let yourself come to a grinding halt, stop now and let us have a look. | Looking for that extra horsepower? Kaspers years of racing and installations on some of the fastest cars will give you the advantage. Custom performance with dedicated racers behind the results; from turbocharging, nitrous kits, to street and strip modifications; Let us power you!! |
| Personalized custom accessories are a standard addition, save the time and hassle of mail order and visit our store. All major brands available for import, domestic, trucks and SUV's of all makes and models. Put the custom touch on your vehicle with our aftermarket supply of great accessories. | Kaspers machine shop is fully capable of all your needs for that high quality long lasting work that keeps engines humming for years. We are equipped to do just about anything needed when it comes to rebuilds and repairs. | Shift your expectations of repair shops by coming to us, we will show you a level of personalized service that will rival all of the best dealerships. You are the customer; we give you a clean, well maintained shop and pleasant atmosphere to feel you have made the right choice for all your needs. | You're in the drivers seat at Kaspers. New and returning customers tell you about their experience as you can too with much appreciated feedback. We pride ourselves on being not only your technicians but your advisor and employee. When all is finished please feel free to leave a comment and we will add you to our testimonials page. |
Serving The New Jersey And Philadelphia Counties Including:
Gloucester Township, Deptford, Mantua, Washington Township, Burlington, Blackwood, Atco, Wenonah, West Deptford, Westville, Woodbury and Woodbury Heights. Bellmawr and Runnemede, Camden County. Philadelphia County, Atlantic County, Cumberland County, Salem, New Castle County, Delaware, Cherry Hill, Vineland, Evesham, Atlantic City, Mount Laurel, Pennsauken, Winslow, Willingboro, Galloway, Egg Harbor, Monroe, Pemberton, Voorhees, Millville, Medford, Hamilton
Recommended Automotive Services In New Jersey By KaspersKorner / Kaspers Certified Automotive Repair & Performance

Kaspers actively practices environment friendly auto repair and recycling.
30,000/60,000/90,000 mile services and all interval services as recommended in your car owner's manual
Automotive Seasonal Specials
Brake system service and repair
Hi Performance mufflers and exhausts
Oil and filter changes
Performance Parts And Installations
Custom Auto and Truck Accessories
Custom Wheels And Tires
Computerized wheel alignment, both 2 and 4 wheel drive
Computerized wheel balance for all wheels and tires including high-end and high performance
Fan belts
Batteries

Metal Carports And Garage Sales
Machine Shop Services
New And Used Auto Parts
Transmission services, both manual and automatic
Tune-ups
Shocks and struts
Suspensions and axles
Timing belts and chains
Starters and alternators
Clutches
Computer diagnostics
Fuel injection services
Electrical problem diagnostic and repair
Cooling system service and repair
Air conditioning and heater service and repair
Engine service and repair
Check Engine Light diagnostic and repair
Radiators

Contacts And Information

Location:
50 College Drive.
Clementon N.J. 08021

Phone | Fax | E-Mail:
Phone ~ 856-309-9500
Fax ~ 856-309-9505
Kasperskorner@comcast.net

Hours Of Operation:
Monday Through Friday 8:30AM to 5:30PM
Saturday and Sunday Closed

Directions: